The dept is doctoral degree education center of Combination of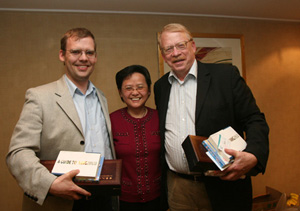 Chinese medicine with Western medicine-TCM Internal medicine of Zhejiang Chinese Medical University, has Grade A research labs of State Administration Bureau of Chinese Medicine and various advanced instruments for diagnosis and treatment.
The dept has multiple Treatment Centers for Aplastic Anemia, Bone Marrow Transplantation, Leukemia, and thrombocytopenia and 7 professional teams are working on the centers respectively.
The dept receives over 20000 patients a year, has accumulated rich experiences and lots knacks in treating all kinds of anemia, acute or chronic leukemia, thrombocytopenia, lymphoma, myelodysplastic syndrome(MDS), multiple myeloma by combination of Chinese Medicine with western medicine.

The clinical research of treating malignant homeopathy by herb SAN JIAN SHAN has reached leading level in China. The therapeutic program of HA which was originally found by this dept now has become national standard treatment for acute Non-lymphatic leukemia. It has achieved significant effect for treating chronic aplastic anemia by strengthening kidney nourishing qi and promoting blood creation. It also accumulated rich experience in treating acute aplastic anemia by layered therapy of cooling, worming and heating.

Guiding with "differentiating symptoms & signs and to determine treatment" to limit side effects of western medicine, the dept has accumulated rich experiences of various kinds of hemopoietic stem cell transplantation by promoting the generation of blood cell, reducing the re-occurrence. It has been undertaking various research subjects at international, state and provincial level. Some of them have been awarded with notable prize.