It is the TCM Gynecology postgraduates' education center of Zhejiang Chinese Medical University. The classic Gynecology of Qiu's family and Song's family which is originate from Song Dynasty Kaiyuan-year have distinctive character of traditional Chinese medicine. The department sees about 110,000 patients a year, have accumulated a considerable experience in treating the following diseases with TCM: endometrioses, amenorrhea, dysfunctional uterine bleeding, infertility, hystero Myoma, pelvic inflammation, metrorrhalgia, metroptosis, leucorrhagia, ectopic Pregnancy, dysmenorrhea, menopausal syndrome and postpartum disorders, threaten abortion, etc. Some of the TCM Gynecologists are nation-wide famous physicians.

Dr. Jiang Xuelu is a Chief Physician, Professor of Zhejiang Chinese Medical University, and Master's Tutor. She is a committee member of Gynecology Board of China Association of Chinese Medicine, standing committee member of Zhejiang Association of Chinese Medicine Gynecology Board, committee member of China Association of Combination of Chinese & Western Medicine- Specialty of Reproductive Medicine Board, committee member of Zhejiang Medical Association Gynecology Branch and Minimal Invasive Surgery Board.
She is also the committee member of Zhejiang Anti-Cancer Association Specialty of Gynecology Oncology Board.
Dr. Jiang is specialized in treating Gynecological complicated cases and critical diseases; has accumulated abundant experience especially in treating Gynecological cancer, irregular menstruation, PCOS, endometriosis, myoma of uterus, pelvic inflammations, prolapsed of uterus. She is skillful in such gynecological operations as excavation of multiple myoma, subtotal hysterectomy, sub-mucosal myoma remove via laparoscope, separation of severe intrauterine adhesions through hysteroscopy, hysterectomy from vagina, pelvic floor suspending from vagina.
She is in directing and participating in at least 11 national and bureau scientific research projects, had achieved 6 awards of Second or Third Prize of Sci & Tech Dept of Zhejiang Province, and published one work. She is the chief editor of the text book of the 12th Five-Year Plan "Combination of Western & Chinese Medicine Obs-gyne". Over 20 academic theses have been published in the domestic academic journals. She was rated as a model employee of China health system and 151 program talents in the new century in Zhejiang province.
Dr. Wu Yanping is an Associate Chief Physician of Chinese Medicine,
Associate Professor, and tutor of master. She is the 5th committee member and secretary of Gynecology Branch of Zhejiang Province Association of Traditional Chinese Medicine, committee member of Gynecology Branch of China Association of Chinese Medicine, the 1st committee member of Reproductive Medicine Council of China Association of Chinese Medicine.
She had been educated by Dr. Qiu Xiaomei, the first batch old national notable physician of Chinese medicine. Dr. Wu has devoted herself in gynecology clinical treatment, education and research for several decades. She has solid theoretical knowledge and rich experience, and has been lucubrating different kinds of gynecology diseases. And also she has studied deferent Gynecological diseases intensively and treats them with her unique formulas of traditional Chinese medicine or combination of both Chinese and western medicine, emphasis on disease and symptoms differentiation, make the full use of its advantages, it has achieved outstanding effectiveness in treating menstruation disorders, pelvic inflammation, endometriosis, infertility, ABO incompatibility etc, and she is also good at health preservation and disease prevention medicine.
Dr. Wu had in Charged and participated in two bureau level research projects, they have respectively awarded first prize of China Chinese Medicine Outstanding Achievement, Third Prize of Zhejiang Science & Technology Improvement Award. Over 20 essays have been published on Zhejiang and national medical journals. Dr. Wu has edited two special works and one college text book.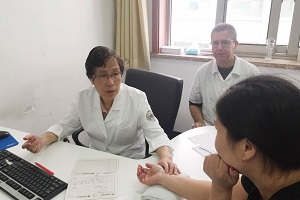 Dr Jia Xiaohang is an Associate Chief Physician of Chinese Medicine, associate professor of Zhejiang Chinese Medical University, Bachelor of Medicine.
She has 30 years teaching and clinical experience of Gynecology, specializes in treating Gynecological common and complicated diseases, such as scanty menstruation, irregular menstruation, dysmenorrheal, bleeding in ovulation, PCOS, threaten abortion, habitual miscarriage, pelvic inflammation, menopause syndrome, myoma, ABO blood incompatibility, insufficient lactation, postpartum body ache. She has formulated several unique prescriptions for treating the above health problems; it has been achieved remarkable effectiveness. Over 20 papers have been publishes on deferent medical journals.
Dr. Zhang Pingqing is a Chief Physician of Chinese Medicine, Adjunct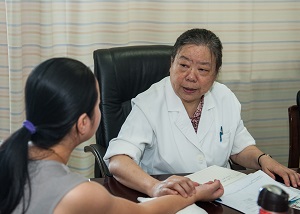 professor, and tutor of master. She is the successor of academic experience of Dr. Qiu Xiao Mei, the State Notable TCM Expert of Gynecology. Dr. Zhang is also a Chief Physician of Chinese Medicine, Professor of Zhejiang Chinese Medical University, and master tutor. She is majoring in TCM Gynecology, specialized in treating many kinds of women diseases with traditional Chinese medicine. Over the 40 years clinical practice, she has accumulated rich experience in treating such diseases as endometriosis, infertility, poly-cyst ovary syndrome, myoma, menopause syndrome etc; she is well known domestically and oversea for its remarkable effectiveness in treating infertility by herbal medicine.
She has published over 20 essays in deferent medical journals, and also the chief editor of "Chinese Medicine Gynecology (cases version)", "Hand Manuel for Gynecology Clinical Intern", "Insights of The Experience of TCM Gynecology Experts", "Clinical Hand Manuel of TCM Gynecology" etc.
Dr. Zhao Hong is an Associate Chief Physician, Associate Adjunct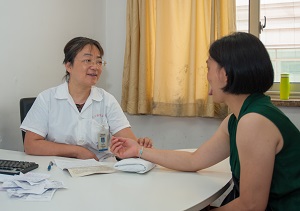 Professor. She has been working on Gynecology clinical practice and research for over 40 years, she has accumulated abundant experience in treating women's health problems, such as reproductive system endocrine disorder, infertility, endometriosis, irregular menstruation, PCOS by means of Chinese medicine and combination of both Chinese and western medicine. After decades practice, Dr. Zhao had formulated series of treatment principles which gains wonderful effectiveness but minimal side effect, since then she received wide ranges of praises.
She had host and participated in two bureau research projects, has published over 20 papers in deferent medical journals.