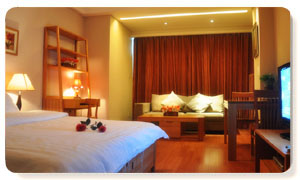 IEC-TCM
can help participants to make hotel reservations. There are many hotels and hostels nearby.
These two hotels would highly recommended
1.West Lake No.7 Apartment Hotel: which only 10-minutes walk to the hospital, a stone throw distance to the beautiful West Lake. There is a Night Market just nearby the hotel, opens every day after sunset.
Each room is equipped with air-conditioning, telephone, TV, refrigerator, wash machine, private shower room, WIFI. The rate is between RMB 170-230/night. The hotel fee could be adjusted in different season.
2.Qing Shui Wan Holiday Hotel:
It is a 4 Star hotel which have contract with our hospital, so we can get most favorite price. It is RMB180/night, not include breakfast, 20-30 -minute's bus to the hospital. Near the hotel, there are massage service, local flavor restaurants, coffee bars and beauty salon. The well-known Jinghang Grand Canal is just lying next to the hotel. The beautiful view attracts local residents gather here to do morning exercises every day.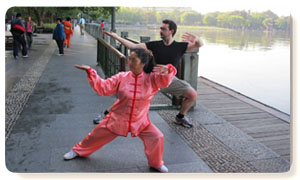 3. Food: Hospital staff cafeteria provides nutritional, delicious Chinese meals; foreign students can have meals in the cafeteria, and the price is reasonable, ranging from RMB 20-30yuan a day. However, students also can have meals in nearby restaurant, enjoy local favorable traditional Chinese cushion. Near the hospital, all the living facilities are available, such as supermarket, post office,bank, food shops and public buses.

4.
Attentions for Visa Extension and Residence
- Students who wish to extend visa or residence permit, must apply the extension from Hangzhou Public Security Bureau- Entry & Exit Management Dept with hospital's Letter of Recommendation 5 days prior to the expiry of visa or residence permit.
- Passport is foreigners' most effective identification, it shall be well-kept. Please be cooperative when policeman performs legal inspection.
- If you lose your passport by accident, you must report to local police station and IEC- TCM immediately. With the "CASE RECEPT RECEIPT", which is written by local police station, student applies a certificate of PASSPORT LOST from Hangzhou Public Security Bureau. With the certificate, you are able to apply a new passport from your home country's embassy in China. After receiving the new passport, you need to apply visa from Hangzhou Public Security Bureau Entry & Exit Management Dept with hospital's Letter of Recommendation. Hangzhou Public Security Bureau Entry & Exit Management Dept is the place for foreigners to extend visa and resident permission in Hangzhou.
Contact:0571-8728 0561; 8728 0539
Add:Hangzhou Huaguang Road 35.
Remind
Students should pay special attention to expire date of visa or residence permit. If you over stay illegally, you must be responsible for financial penalty and /or other sequels.
For more information about foreigners entry & exit China, residence, visa, work permit and study in China, please visit website of Hangzhou Public Security Bureau-Entry & Exit Administration, and online consulting.
www.hzcrj.gov.cn