As the First Clinical Medical College of Zhejiang Chinese Medical University, the hospital is also undertaking the task of cultivate undergraduate, postgraduates and doctoral degree students of Chinese Medicine. We receive and train over 500 undergraduates and 200 postgraduates and PhD students annually. Meanwhile the hospital also receives junior TCM practitioners from subordinate hospitals for their advanced clinical training. It is also our responsibility to cultivate senior professionals and give them professional instruction for the subordinate hospital colleagues.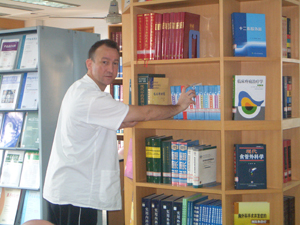 Since 1983, our hospital has received and trained over 200 foreign students and visiting scholors annually from over 10 countries and regions such as USA, Germany, Israel, Switzerland, Australia, Korea, UK, Canada etc, for short term TCM clinical practice or long-term research. Some of them are senior medical students or have just graduated from TCM College in their home countries. For some of them, it is their first time in the hospital for a clinical internship, and others are already TCM practitioners coming for advanced training.
In the past 5 years, we have undertaken various academic exchange and cooperation programs with education and scientific research institutions from such countries as the USA, Australia, UK, Israel, Holland, Canada, and Germany in the fields of student training, medical service, rehabilitation, clinical scientific research and sightseeing etc. We have become many schools'clinical training base of their graduates.
After years of development, our hospital has laid a good foundation for the training program of foreign students, we provide not only high level TCM experts with rich experience both in teaching and clinical fields, but also an interpreter team with high interpretation skills and rich medical experience. Furthermore, some of the instructors are excellent translators themselves. Good language condition and consolidated technical skill have benefited foreign students a lot.
In the training program, our teachers adopt specific teaching skills according to each student's situation and explain the profound knowledge in simple terms, so that students have the primary impression on such TCM diagnostic skills as Interrogation, Inspection, Auscultation, Palpation, and their interest in TCM study has been improved. Due to the instructors' vivid training program,the students have basically mastered the TCM diagnosis and treatment technique on the common diseases and had a better understanding on some difficult and complicated cases within shortest period of time. A lot of foreign students say cheerfully "this kind of teaching methods combining theory with hands-on training make us learn great deal of knowledge within short period of time, which we are unable to learn in our own country even in a couple of years".
| | |
| --- | --- |
| | |
Through the learning process, these foreign students have a better understanding of basic TCM theory, accumulated certain clinic experience. At the same time, they have seen the mystery of the TCM and its contribution to the medical development.


Organization of the Training Center
The Foreign Affairs Office of Zhejiang International Exchange Center was specifically set up in the hospital, aiming to provide instant help for students not only for study but also for daily life.
The training center has equipped with strong teaching forces, provides varies subjects for clinical training as: Acupuncture, Tuina, TCM Internal Medicine, TCM Pediatrics, TCM Endocrinology, TCM Neurology, TCM Dermatology, TCM Rheumatology & Immunology, TCM Respiration, TCM Digestion, TCM Cardiology, TCM Breast Disease, TCM Nephrology, TCM Oncology. Over 40 departments and herbal pharmacy with strong TCM features, have subjects' leaders to take in charge of foreign students' clinical education.